72 Hair pHrizzy-o-therapy De-Frizzing & Smoothing Shampoo
I'm really glad I was almost out of my 20's before Facebook came along. If I look back at photo's of me then, I often ask 'what was I thinking with my hair like that'?????
It was frizzy and had a bit of wave, and most the time was tied up because I didn't have the patience to blow dry it.
Since then, I've discovered hair iron's, Brazilian treatments, blow dry cream, and realized how much better I look as a brunette!
Now, I'm more interested in what I'm putting into my body and on my hair… and have found the perfect de-frizz and smoothing treatment.
Part of my apprehension about this product, was how am I going to apply it myself. To be honest, it was so easy!
This is my tangled frizzy mop before treatment...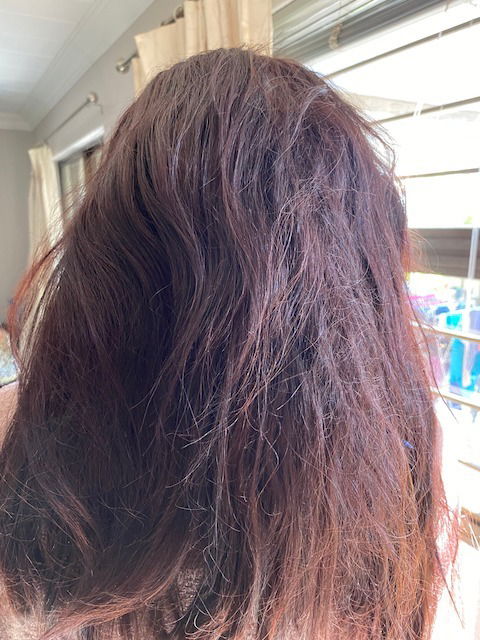 I jumped in the shower and washed my hair twice with the Cleansing Shampoo. My hair literally felt "squeaky clean" afterwards.
Once I'd towel dried my hair, I sectioned it and applied the treatment from root to tip with a comb. I have quite thick and long hair and the 40ml dose was more than enough.
NOTE: I found that this was very runny (I was expecting a thick treatment) and was a lot easier to apply like a shampoo and then combing through the hair.
30 minutes later I was ready to rinse and then I blow dried my hair. I then sectioned the hair and ironed 5 times per section.
For an even straighter result, they recommend that you develop for the 30 minutes under heat (or even sit in the garden with a good book) and for ethnic hair the development time is 50 minutes and iron each strand 14 times once the hair has been blow dried.
You can wash your hair as soon as you like after the treatment.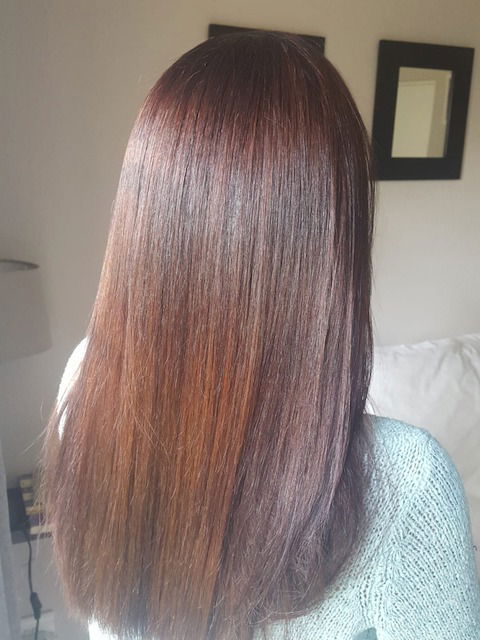 And... the results 💜
What I did notice, that was completely different from the usual Brazilian treatments I've had previously, is that my hair didn't feel like it had heavy product on at all and absolutely no fumes… for me this was an absolute win!!!
pHrizzy-o-therapy left my hair feeling soft, frizz free, smooth and weightless.
There was a fresh tingle on my scalp when I first applied it, as it is citrus based. The smell of the product was amazing as well.
A little about the active ingredients in this product; (It's 80% Organic)
Glycolic Acid (Extracted from sugar cane)
This allows the product to absorb easily into the hair shaft and reinforces the hair structure.
Green Tea
Ensuring the hair fibre is strengthened, prevents split ends and kills bacteria on the scalp and in the hair.
Lactic Acid (Derived from the fermentation of milk sugar)
Due to high moisture levels this makes the hair smoother and softer and assists in absorption of other ingredients.
Wheat Protein
Helps your hair retain moisture and provides volume and improves smoothness.
Malic Acid (Extracted from Apples)
Encourages shine, removes dead skin cells from the scalp and neutralizes the pH.
Tartaric Acid (Extracted from Tamarind)
Keeps hair looking young, adds moisture and enhances durability of the hair.
Tartaric Acid also controls frizz and adds that extra shine.
Keratin (Vegetable derived)
Increases Elasticity of the hair shaft, closes down the cuticle to make hair more manageable and smoother, eliminates frizz and adds even more shine.
Silk Protein (Synthetic)
Encourages volume and shine and adds a protective film around the hair, enhancing elasticity.
In closing, I only wish I had discovered this product sooner, it's a shampoo but it only needs to be applied every 12 weeks. If you maintain your normal washing regime with the other 72 Hair products like I do, then it will definitely last that long.
It's progressive, which means the more you use it the straighter your hair will become.
And my hair feels incredible, amazing, I'm really happy with the results!
Check out www.hairlaquin.co.za and you can order your single use treatment from our shop. This includes the Cleansing Shampoo and the pHrizzy-o-therapy treatment.