Last week I had the pleasure of playing a small part in something that has a big place in my heart… "paying-it-forward".
I'm sure most of you have heard the term somewhere along the line, it involves a whole lot of heart, a little of your time and expertise and can have a life-changing butterfly effect on a human's well-being. 🦋💙
Say 'hello' to Tamsyn Reynolds from Hello Hair (enter stage left)
Tamsyn posted on social media a few weeks ago that she wanted to give back to her community as she had been blessed during #lockdownsa with support and an income to keep her Hair Salon alive.
"I was so supported during lockdown, by clients, family members and even strangers! I got offered a free 3D render for the bigger salon I was going to build but had to pull out of due to Covid-19 by @arc_sthetics. I made friends with fellow business owners in the same boat and their messages also helped keep my spirits up. I was asked to talk on the BBC radio and had a lockdown video series featured on their social platform @bbcworldservice which was just such a gift to me to be able to do and be a part of.
Just in general, I felt so loved and supported, even as a single, self-employed mom of three with a business that could not open. I wanted to pay forward a little of that love and light to someone in a similar situation so created the pay it forward post to encourage people to tag single moms and entrepreneurs that they knew."
Hello Hair turned 5 in May but Tamsyn has been in the industry for over 22 years. She says her fav part of hairdressing is the relationships she builds with her clients.
Her worst part is doing hair?!? (insert her gorgeous laugh here) JUST KIDDING, it can be tough physically, standing all day.
In the true spirit of giving back, Shaun Wiegand from 72 Hair SA saw the post offered a product pack for the deserving recipient and I wanted Hair-la-quin to showcase those incredible humans of our community who give selflessly so that YOU can support them in return!
Fast Forward ⏭️ ⏭️ to "pamper day" 💆🏻
Bronwynne Mare who is a mom and the business owner of Tan Addicts @bronwyn_tanaddicts was the recipient of this wonderful make-over.
Tamsyn used Joico freeplay clay lightener and toned with Goldwell 7MB and some P mix finishing with a cut, and style. The results clearly speak for themselves…. Bronwynne's hair looks amazing.
Bronwynne also received her "take home" pack with the following products;
72 Hair Intense Moisture Shampoo, Hydrating Conditioner and Intense
Replenishing Mask… all freshly vegan 🌿💚| https://www.facebook.com/SHIFTMYSTYLE/
Bee Bio Nectar Eye Serum and Venomous Masque | www.hairlaquin.co.za
Hello Pill-oh Satin Pillow Slips | https://www.facebook.com/hellopilloh/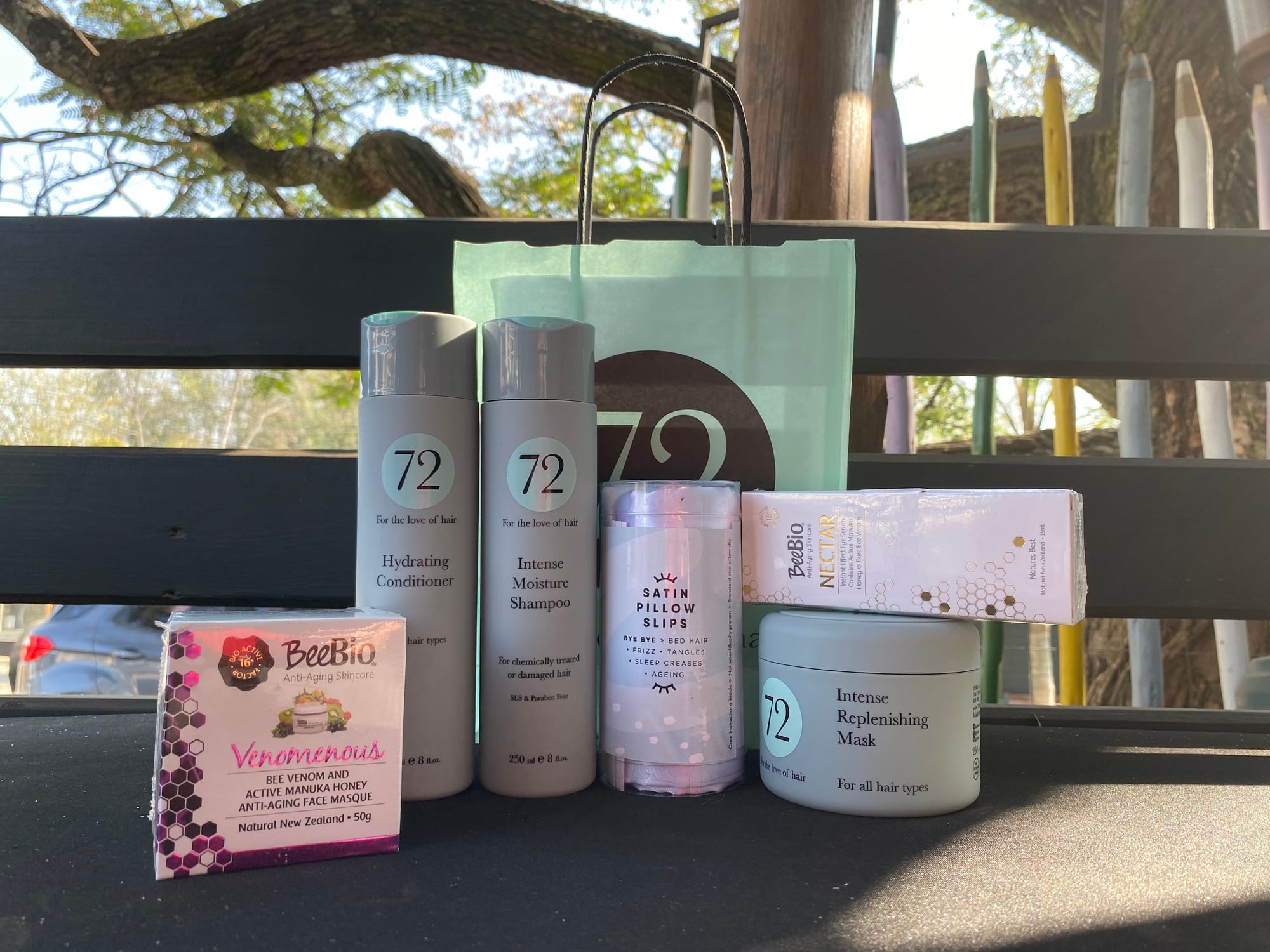 And don't forget, summer is coming… when you need that tan contact Bronwynne | https://www.facebook.com/Tan-Addicts-142067993158974/
"There can be no greater gift than that of giving one's time
and energy to helping others without expecting
anything in return." – Nelson Mandela
It is a GIFT to be able to make someone feel good about themselves, whether it is with a hair make-over, a pedicure or even a compliment, which costs nothing but a small amount of heart… there's nothing more satisfying than a deposit into your Karma account.
Thank you to Tamsyn from Hello Hair for sharing her love, and the wonderful make-over, to Shaun from 72 Hair SA to ensure the gift of giving continued at home and to Bronwynne for showing her complete enjoyment and gratitude ❤️ 💜